Folk music (or roots music) has deep roots, representing the voice of the people, and is often passed down from generation to generation. The genre's history is rich and often associated with storytelling, highlighting themes of empowerment, struggle, and perseverance, often about human rights. Protest songs and thought-provoking lyrics highlighting the civil rights movement are examples of Black folk musicians' impact on their communities and society. 
From rhythm bone to washboard artists, the earliest influential folk musicians used music to help uplift those around them. Folk music and work songs also acted as a tool to communicate among enslaved people, showcasing the power of folk music in African American history. This genre would later influence jazz, blues, rap, and gospel music.
There have been some captivating and highly inspirational African American artists throughout folk music history, like Harry Belafonte — the legendary artist who sang "Day-O" — not to mention Richie Havens and Odetta. However, contemporary Black folk musicians are reawakening traditional African American music.
These five artists are simultaneously preserving and evolving this genre, and watching their journeys unfold is beautiful.
Ebony Hillbillies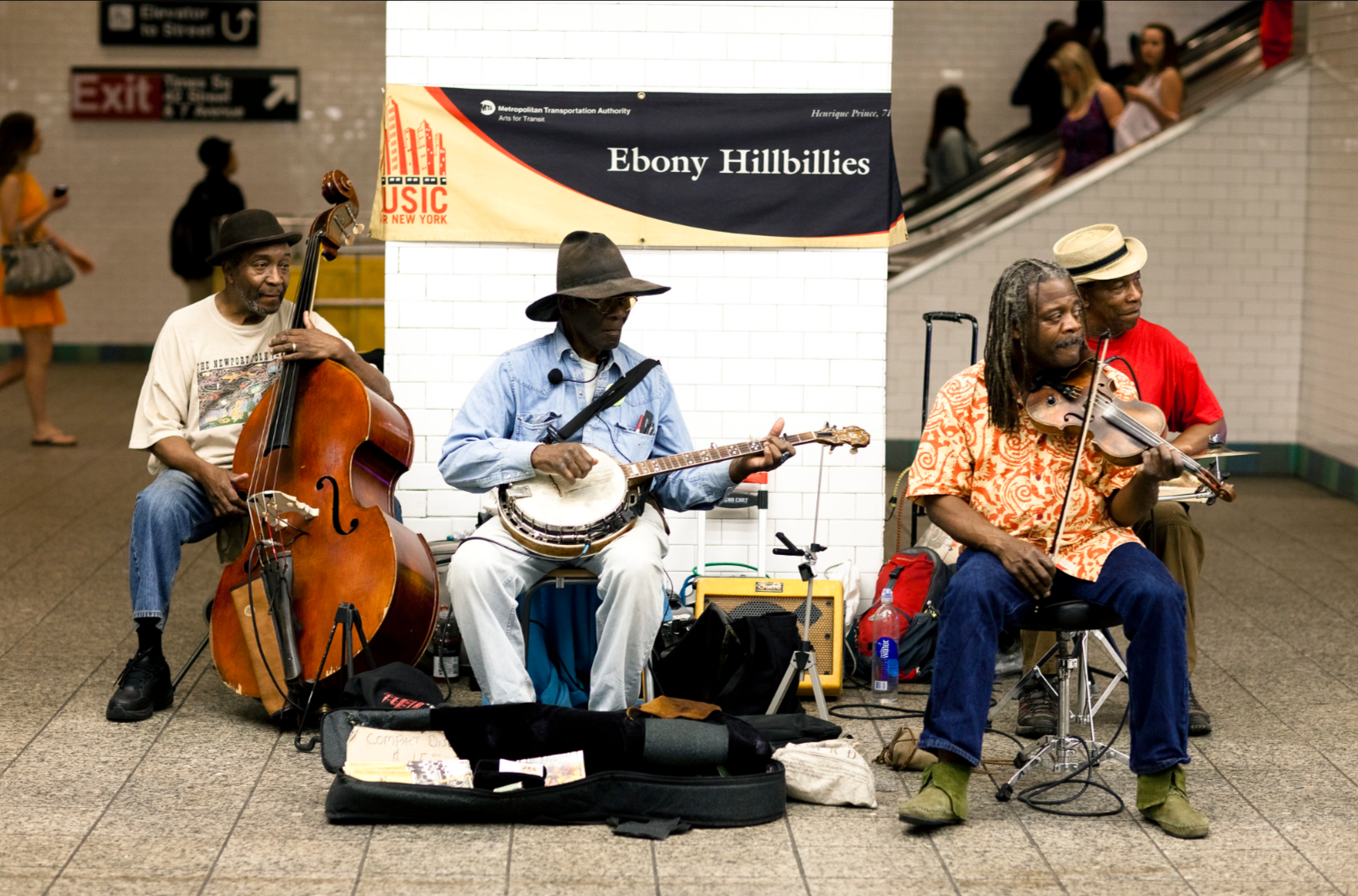 Founded by fiddler Henrique Prince, the Queens-based Ebony Hillbillies were some of the pioneers leading the current Black Americana movement. Throughout the decades, this string band's untamed, joyful vibe has created a dedicated following, bridging the gap between bluegrass, folk, jazz, pop, and country. Prince's goal was always to create music African Americans used to perform and dance to — before the era of blues and jazz.
What started as an NYC street corner phenomenon has since turned into a dynamic ensemble that has played at legendary venues, touring with multiple Grammy-winning writers, like William "Salty Bill" Salter, who co-wrote the hits "Where is the Love" and "Just The Two of Us." Over the years, they have worked with everyone from James Brown to Odetta. The remaining members continue to tour, often scheduling events with cultural significance. They're blazing a trail for coming generations, keeping their art alive as one of the last black string bands in the country.
Song recommendation: I'd Rather Be
The Carolina Chocolate Drops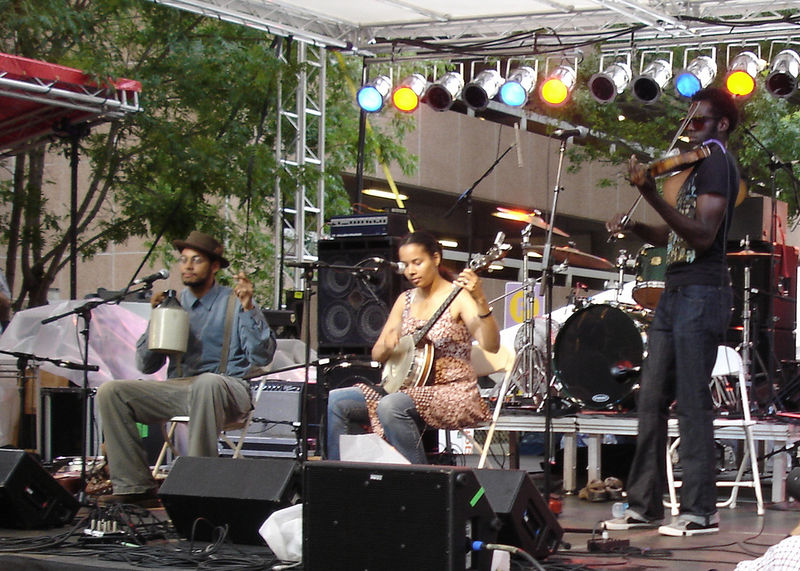 Although the Carolina Chocolate Drops haven't collectively performed since 2014, their sound lives on as members continue pursuing solo projects. Founded in 2005, Carolina Chocolate Drops formed after meeting at the Black Banjo Gathering at Appalachian State University in Boone, North Carolina. The band found immense success, and their 2010 album, Genuine Negro Jig, won the Grammy Award for Best Traditional Folk Album. It was also listed at #9 in the Roots magazine's top ten albums of 2010. 
All of the musicians in this group would sing and trade instruments, including the bones, jug, snare drum, harmonica, kazoo, banjo, fiddle, and guitar. The group discovered and studied nearly forgotten African American musical traditions, bringing them to the forefront based on their reinterpretations. Although the band no longer plays together, members like Rhiannon Giddens have won several awards, including a Grammy for Best Folk Album. Slave narratives inspire several powerful songs while touching on other aspects of African American history — ranging from the civil rights era to Black Lives Matter.
Carolina Chocolate Drops song recommendation: Hit' Em Up Style
Rhiannon Giddens song recommendation: Julie
Jerron "Blind Boy" Paxton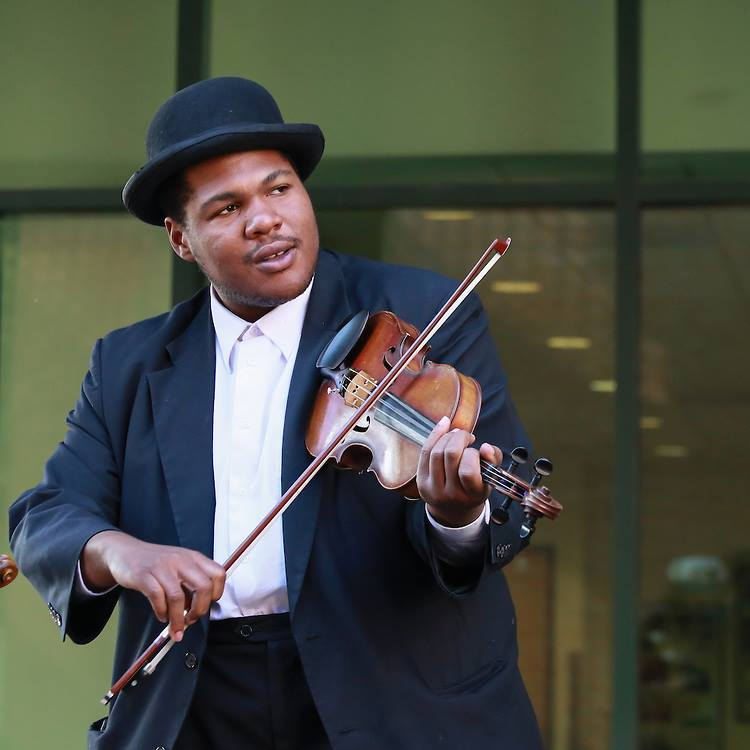 Jerron Paxton is a bluegrass, folk, and jazz musician performing early African-American music — a "master of forgotten music." Born in 1989, he is a relatively young artist with an old soul. Blind with some peripheral vision since he was 16, he took on the nickname "Blind Boy" Paxton. He's witty, poetic, and a true gift among those who love true blues, playing everything from the banjo and fiddle to the accordion and the bones.
He assimilates the blues of the 1920s and '30s and has released three albums. His ability to make music based on his identity and culture and showcase it to a broader audience makes him truly special. Some say his music is like a time capsule, shining a light on American, African American, and working-class cultures.
Song recommendation: No More the Moon Shines on Lorena
Henry St. Claire Fredericks Jr. – Taj Mahal
This list would not be complete without Henry St. Claire Fredericks Jr., better known as Taj Mahal, a Harlem-born musician and songwriter. Over the years, he created his own sub-genre of blues, being one of the pioneers of what is called world music today. Influenced by ragtime, reggae, and gospel, his career focused on the origins of African American music, focusing on acoustic blues.
He recorded dozens of albums from the 1960s to the present, and even at 80 years old, he continues to tour. He has shows booked throughout 2023, ending with the Crossroads Festival in Los Angeles, California. His years of work have landed him 15 Grammy nominations and three wins, the most recent being a 2022 Grammy for his and Ry Cooder's album Get on Board.
Song recommendation: Sweet Mama Janisse
Kaia Kater
Kaia Kater is more of an up-and-coming artist known for her sobering and honest lyrics, touching on everything from racism to poverty. Canadian-born Kaia recorded her first EP at 17, releasing her first full-length album in 2014 at the age of 21. By 2016, Rolling Stone was calling her a "need-to-know" artist.
In 2018, she released her album Grenades, exploring her family's history. To gain inspiration, she went to her father's homeland of Grenada. The album was later nominated for a JUNO. In 2020, she released original music for The Porter on BET, which won her a Canadian Screen Award for Best Original Song in a Drama Series. Her works continue to gain global attention as she focuses on her unique artistic, social, and political expression. She's dropping her next album in late 2023.
Song recommendation: Rising Down
Recognizing and Celebrating the Achievements of Black Folk Artists
From legend Bernice Johnson Reagon to breakout successes like Amythyst Kiah, dozens of outstanding contemporary Black folk artists have created their legacy over the past 50+ years. Some focus on soulful folk music, while others focus on blues-influenced folk. Regardless, they all have one thing in common — they all recognize their roots, showcasing the power of knowledge, passion, emotion, and reconciliation.
These artists have paved the way for other African American folk artists. They shed light on the topics that matter, create music that makes their audience feel good, and above all else, represent themselves and their communities in a way that leaves an imprint on your soul.
At BLAC, we encourage you to explore and support the work of these artists and those that follow as they help ensure the continued vitality and growth of the Black folk music scene. Be sure to follow all that's happening in the realm of art + culture.
Facebook Comments